Mark Global Logistics Inc.
Experience and Expertise: Our company has a leading position in the sector as a freight forwarder with years of experience. Our expert staff has extensive knowledge in the field of international transportation and logistics. We have the know-how to provide you with comprehensive and reliable service.
Global Network and Partners: We have a well-established global network and a wide network of business partners. This enables us to ensure fast and smooth transportation between different countries around the world. Thanks to our trusted partners, we support you at every stage of your transportation process.
Customized Services: We take an approach focused on customer satisfaction and are flexible to provide solutions tailored to your needs. We offer you the most suitable options, taking into account your transportation requirements, budget and timeline. We are responsive, solution-oriented and communicate with you at every stage.
Technological Capabilities: We optimize processes and increase efficiency by using up-to-date technologies. By offering you online tracking and monitoring, we ensure that you can control every moment of your transportation process.
Reliability and Reputation: Our company has a solid reputation and we are known as a reliable partner among our customers. We have a reliable track record in providing on-time delivery, quality service and attentiveness to customer demands in transportation operations. With our customer satisfaction-oriented approach, we aim to establish a long-term business relationship with you.
In addition to our responsibilities in business life, we aim to support social responsibility projects, to be nature-friendly and to look at life from a humorous perspective without forgetting that we are human beings.
As Mark Global Logistics, we make it our mission to provide the best service to meet the international transportation needs of our customers. By closely following the current trends in the industry, we use technology effectively to provide innovative solutions and ensure operational excellence. We help our customers optimize their supply chains by providing customized, fast and reliable logistics solutions. At the same time, by adhering to the principle of sustainability, we operate in an environmentally sensitive manner and aim to contribute to the welfare of society.
As Mark Global Logistics, we aim to become a leader in the global logistics industry. By providing excellent service to our customers, we aim to become a company recognized for reliability, innovation and operational excellence. We want to create value as a solution partner in the field of transportation and logistics by keeping customer satisfaction at the highest level.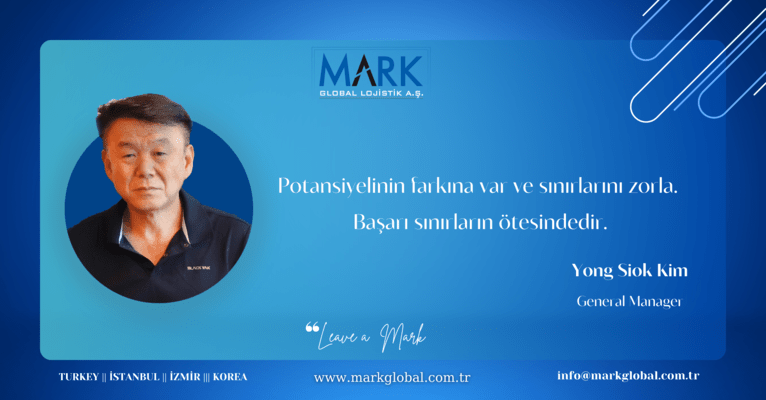 The slogan "Leave a Mark" represents Mark Global Logistics' pioneering role in transportation and the value it provides to our customers. It emphasizes that our customers will have a distinctive experience when they work with us.
This motto reflects the superior service quality our company offers to our customers and our professionalism in transportation projects. We strive to meet the logistics needs of our customers in the best possible way and add value to them.
In addition, the slogan "Leave a Mark" means providing our customers with confidence and assurance, contributing to the success of their business. By successfully completing transportation projects, we aim to give our customers a competitive advantage and support the growth of their business.
The slogan "Leave a Mark" represents the philosophy of leaving a lasting mark. This means that we aim to establish long-term business relationships with our customers, provide them with continuous support and be a part of their success with our logistics solutions.
As Mark Global Logistics, we have adopted our "Leave a Mark" slogan as a principle to add value to our customers, to demonstrate leadership in transportation projects and to bring innovation to the sector. While working to leave a positive mark in the business of our customers, we operate as a company aiming for continuous development.